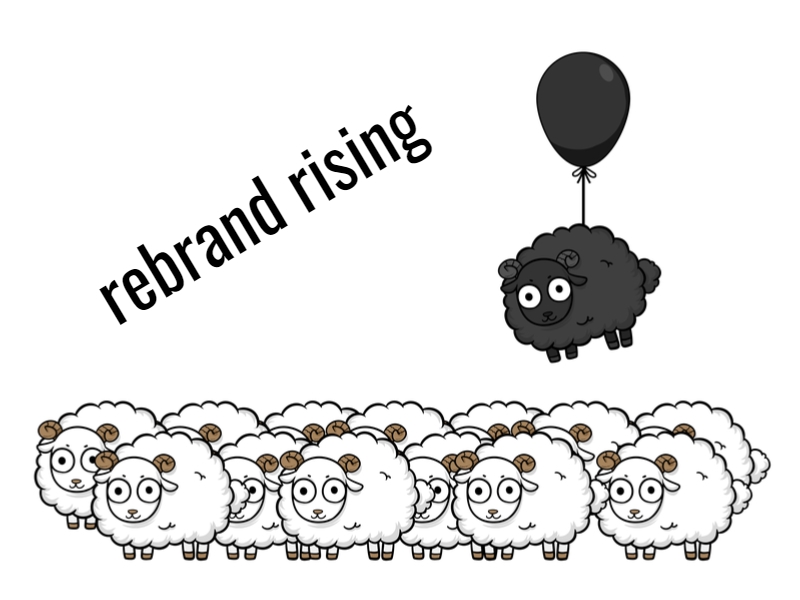 02 Apr

Time to Embrace Rebranding, the Black Sheep of the Family

By now, nobody should need to be sold on the idea of branding.

A well-defined brand is one that consumers feel they understand and trust. That trust translates to loyalty in the form of both repeat business as-well-as the ever-valuable word-of-mouth recommendation. Unless you want to be down in the trenches of non-stop product discounts and gimmick-based promotions, branding is the way to go.

Then there's the black sheep in the branding family: rebranding.

Where branding is usually a party, rebranding is often the cleanup that needs to get done after the party.
Time to Rebrand Rebranding
Once a company gets to the point they're using the "R" word, it's likely that something hasn't gone according to plan. They've either been beating a dead horse, their horse is out to pasture, or they backed the wrong horse.
While the road to rebranding may have been driven by a series of unfortunate events, the decision to rebrand offers companies the opportunity for a fresh start. When done correctly, companies can come out of a rebrand renewed, refreshed and re-positioned for growth.
From a craft beer that lost its way to the biggest names in technology, if you're considering a rebranding initiative, you should know you're in good company.
Beating the Dead Horse—Hold My Beer
Launched in 1994, Highland Brewing was a craft brewer before anybody knew what craft beer was. Their original brewery in downtown Asheville, NC was a quaint operation made up almost entirely of retrofitted dairy equipment.
The Highland name was chosen to honor the Scots-Irish who settled in the Appalachian Mountains in the 18th and 19th centuries. Highland's packaging reflected this heritage, featuring a bearded Scott playing bagpipes. The brewers aren't Scottish and they don't brew Scottish beers. But the locals knew and loved Highland because of their history with the brand.
The problem happened when Highland tried to branch out of the geographic area. Their beers couldn't gain any traction. This was because their packaging didn't reflect their reputation (or beers) and the Scottish theme didn't inspire non-local drinkers to give them a try.
Locals bought in-spite of the branding rather than because of it. Those not familiar with the beer's history didn't find the legacy images compelling.
Taking the Rebranding Plunge
Highland partnered with an ad agency to reconsider their brand. After focus group testing revealed a complete disconnect between the brand and the beer, Highland opted for a significant rebrand. They kept the name, but visually and graphically update the brand to better represent who they are.
"Highland Brewing has been a pioneer in beer since my father founded the company in 1994," said President Leah Wong Ashburn. "Over two decades, we led with beer, and in recent years, we developed our beer portfolio significantly with fresh new styles and our innovative spirit is firing."
All of the new packaging, logo and apparel are supported by ideas that reinforces the brewery as family-owned, and proclaims their place as Asheville's original brewery.
"We believe in authenticity. You are authentic when your actions align with your words. And when our brand aligns with our beer. This refreshed brand is who we are."
Horse is Out to Pasture—Name Your Own Horse
Sometimes a company starts out down one path, only to discover that path comes to an end. Such is the case with Bookings Holdings. You may not recognize the name, but you almost certainly know the company by their former name: Priceline.
Priceline was founded in 1997. They had a novel service that was defined by the memorable "name your own price" tag and their commercials became a regular during high-profile TV events.
In 1999, Priceline expanded to include travel, groceries, gas, long distance service, home mortgages, second hand goods and new cars. By 2003 they had refined the Priceline business model to focus on the most successful areas—retail airfares and hotels.
Led by the famous William Shatner commercials, Priceline grew steadily. They acquired a number of businesses including OpenTable, Kayak.com and the giant Booking.com. Despite the visibility of the "name your own price" tool, it was a shrinking part of the business.
By last year, the Booking.com portion of the business delivered a startling 88% of the company's profit.
So in 2018, the company decided their primary horse was out to pasture. As a result, they made the decision to move away from a branded house approach and embrace more of a house of brands configuration. They dropped the Priceline name and rebranded the company as Booking Holdings to focus on the booking aspect of the brand.
Backing the Wrong Horse—Pivot, Pivot, Pivot
Finally in this age of startup mania, it's worth noting that many of today's biggest tech companies bear little semblance to their original idea. These companies started with a clear idea and vision, only to realize they were backing the wrong horse.
YouTube debuted as a video-based dating service. The idea was that people would upload videos of themselves talking about the partner of their dreams. According to co-founder Jawid Karim, "We even had a slogan for it: Tune in, Hook up."
Unfortunately, the public wasn't interested in tuning in or hooking up.
"The whole thing didn't make any sense. We were so desperate for some actual dating videos, whatever that even means, that we turned to the website any desperate person would turn to, Craigslist."
The company offered $20 to any woman to upload a video. They got zero takers.
With the dating idea dead, they opened the site to any video. The first official video was "Eighteen seconds of elephants" featuring, 18 seconds of elephants. The two co-founders netted a cool $1.65 billion when they were bought out by Google two years later.
Other Second Try Success Stories
Groupon was once a throwaway section of a site called "The Point". It was envisioned as a way to rally people for social causes. The "Groupon" subdomain—added when the main site was going down the tubes—was a way for individuals to pool their resources to get a group discount.
Yelp was a site that let people email their friends for recommendations. The idea was a flop and the founders stopped promoting the service in 2004. The founders noticed people were still engaging the service to offer unsolicited reviews of businesses even after the site went dormant. Yelp was rebranded and relaunched to give the people what they wanted.
Helping people find podcasts was the point of Odeo. Odeo pivoted away from the podcast idea when Apple started dabbling in the podcast space. They opted instead to become a status-updating micro-blogging platform that's now called Twitter.
Making the decision to rebrand is seldom easy. It can take some humility and an open mind. But as history has shown, it can also be the springboard to creating something special. If you're considering a rebrand, consider giving us a call first. We can help you transform your brand from black sheep to wolf in sheep's clothing.